Emory Researchers Link Brain Activity And Popular Music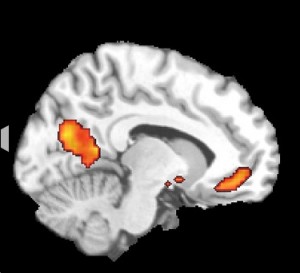 MRI of a popular song
After nine months in the womb, a newborn recognizes its mother's voice.  Last Rites are read out loud because hearing is the last sense to cease functioning before death. From beginning to end, voices, music and other audio leave strong impressions.
That's why we're not surprised by the findings of a recent Emory University study. In 2006, neuro-economists performed functional magnetic resonance scans (MRI's) on the brains of 27 teenagers while they listened to music. Three years later, these images were compared with the ultimate popularity of the songs as measured by Nielsen SoundScan, a service that tracks music sales. Researchers discovered  a statistically significant correlation between high levels of activity in the nucleus accumbens and a song's success. Even if teens completed a survey saying they didn't like the song!
The nucleus accumbens is part of the brain's limbic system, a region known for raw, subconscious emotions and reactions. The Emory Study suggests that popular music can trigger a subconscious reaction that supersedes a teen's conscious preferences.
Emory's brain scans provide empirical support for something we hear from VoiceQuilt gift givers: voices and music are surprisingly emotional. We've often asserted that the sound of someone's voice – their accent, tone and laughter – conveys much more than a photo, letter or a store-bought gift. Now, Emory's research helps us understand the mechanics of why.
One Response