Archive for March, 2012
Welcome to our guest blogger— Christine, a close friend of our VoiceQuilt family.
As I sat down to write this post, I made myself a cup of tea and logged on to Pinterest for some inspiration. Full disclosure, this is pretty much what I do every morning. The second thing I did was get up from my laptop and make myself an egg white omelet. First Rule of Pinterest: You will get hungry.
For the uninitiated, Pinterest is online bulletin board where users "pin" links to recipes, organization ideas, travel locations, diet tips, home improvement projects, and CRAFTS for later reference…or not… "Membership" is by invitation only, which I suppose makes it all the more exclusive and special.
For the experienced pinner, Pinterest is of a whole world of time-sucking, creativity-inspiring, family-ignoring fun!
Hello, my name is Christine and I'm a Pinterest Addict.
Ten Signs You Might Be a Pinterest Addict:
1.  You have a wreath for every occasion (Presidents Day, Groundhog Day, Arbor Day…)
2.  You are afraid to throw anything away because you know you are just a glue gun and some gold leaf away from the most amazing wedding shower centerpieces known to woman (that no one you know is even close to getting married is of no consequence).
3.  At least one meal a week is nearly unrecognizable to your family. "How do you know you don't like Kale if you've never tried it?"
4.  Your idea of a fun holiday activity with the kids used to be this:
5.  You haven't eaten a meal in your dining room in months as it has been completely overtaken by floral wire, empty toilet paper rolls, fabric remnants, and old tree branches – all just waiting to be properly and attractively grouped and categorized, with help from your "Organization" pinboard.
6.  "Just one more Click for Next Page and I'll go to bed…
7.  In your heart of hearts, you know that at some point you will attempt to electrify an artful grouping of mason jars to form the perfect rustic chandelier for your as-yet-unbuilt outdoor living space.
8.  Since January, you've been selecting your wines based on those with real cork, not synthetic so you can make these adorable cork Christmas trees for next year!
9.  With every project you complete, you immediately think to yourself "I have to take a picture of this with my iPhone so I can put it on Pinterest!"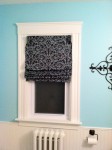 I really did make this! Click here for instructions for No Sew Roman Shades.
10.  You know your sister-in-law is considering redoing her bathroom because of all her shower tile samples posted to her new "Master Bath" pinboard.
And because with all addictions, the first one is free, believe me when I tell you that you absolutely MUST try this recipe for Cheddar Ranch Bacon Pulls.
You can read more from Christine at her blog:  JustAnotherManicMommy