VoiceQuilt Is Coming To A Tablet Or Mobile Device Near You…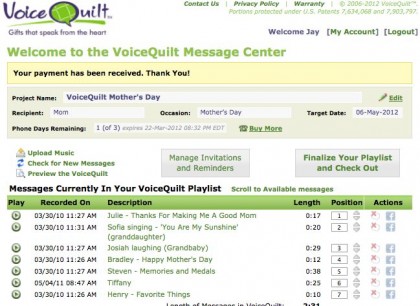 Over the weekend, we re-tooled VoiceQuilt's web application so that it's completely FRIENDLY to mobile phones and tablet devices.  It's a project that started several weeks ago – partly because a gift giver named Kristin agreed to talk with me after creating a VoiceQuilt keepsake gift for her sister's birthday.
Now, Kristin is an on-the-go entrepreneur (check out her company, Modern Day Masala) and very facile with technology. Instead of emailing friends and family to call in and record messages, she messaged everyone on Facebook. Then, she sent a VoiceQuilt Sharing email to her sister, displaying the voice message toasts, tributes and favorite memories.
The glitch occurred when Kristin's sister opened the sharing email on her iPhone.   Because iPhones and iPads don't support FLASH (the technology that used to be in VoiceQuilt's message center), she was unable to play the messages in VoiceQuilt's Sharing Center. To get around this, Kristin downloaded a free VoiceQuilt mp3 and emailed it to her sister. Then, her sister opened the VoiceQuilt mp3 in iTunes.
Needless to say, I was mortified when I heard Kristin's story.
At VoiceQuilt, we pride ourselves on being easy to use. Anyone, anywhere in the world can call in (or Skype) a VoiceQuilt message; most VoiceQuilts include voice message toasts, tributes and favorite memories from toddlers as well as seniors. So,  we needed to address Kristin's issue, providing access to gift givers and gift recipients on-the-go with smartphones or tablet devices.
As of this weekend, I am delighted to report that we've done it.   Kudos to Perry Flinn, VoiceQuilt's CTO, for a job well done!  And many thanks to Kristin for sharing her story!
One Response